Saenger Theatre | New Orleans, Louisiana
A brand new experience from the twisted genius mind of Criss Angel comes to Saenger Theatre – New Orleans on Wednesday 11th December 2019!
"Criss Angel RAW – The Mindfreak Unplugged is a theatrical experience unlike any seen before; bringing Angel's famous sleight of hand street magic, mentalism, and even some of his most iconic illusions to life – all performed in an intimate, raw setting. This extraordinary evening of magic unplugged features Criss and some of his amazing friends with a stripped-down purity that's in-your-face and guaranteed to blow your mind. Experience Criss Angel like never before!" – crissangel.com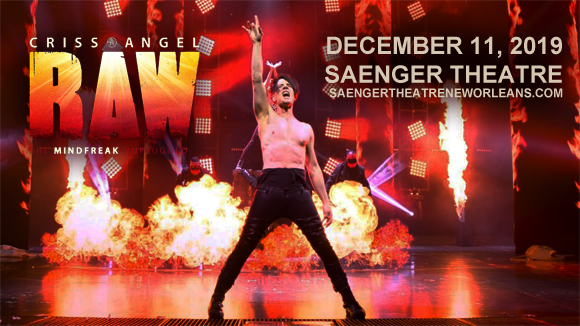 American magician, illusionist and musician Criss Angel first began cultivating public interest in the late-1990s and early-2000s. He is best known for his A&E television show Criss Angel: Mindfreak, which ran from 2005 – 2010, and for Criss Angel Believe – a Las Vegas show produced by Cirque du Soleil and co-written, designed, created by and starring Angel. He is also known for starring in the television series Criss Angel BeLIEve on Spike TV, the reality-competition television show Phenomenon on NBC, and the 2014 stage show Criss Angel Magicjam. Between his television series and various specials on cable and network television, Angel has been on primetime television for more hours than any other magician in history. He was named Magician of the Decade in 2009 and Magician of the Century in 2010 by the International Magicians Society, and has achieved multiple world records through his magic performances.