Saenger Theatre - New Orleans
The name Elvis Costello has always been synonymous to words like icon — artist — legend — superstar. Someone whom you would just picture resting on their laurels and basking in the adulation of fans. Well, not Elvis Costello. This new-wave punk trailblazer has always been pushing the envelope in his most intriguingly unique ways. This time, Costello is covering new ground as he goes on his "Just Trust" tour. Well, lady luck is definitely smiling down as the announcement just dropped that Elvis Costello and The Imposters will seize the live stage of the Saenger Theatre – New Orleans on Wednesday 13th November 2019. Tickets to this show are definitely on the move. Now trust your instincts telling you it's time to book your tickets right here, right now!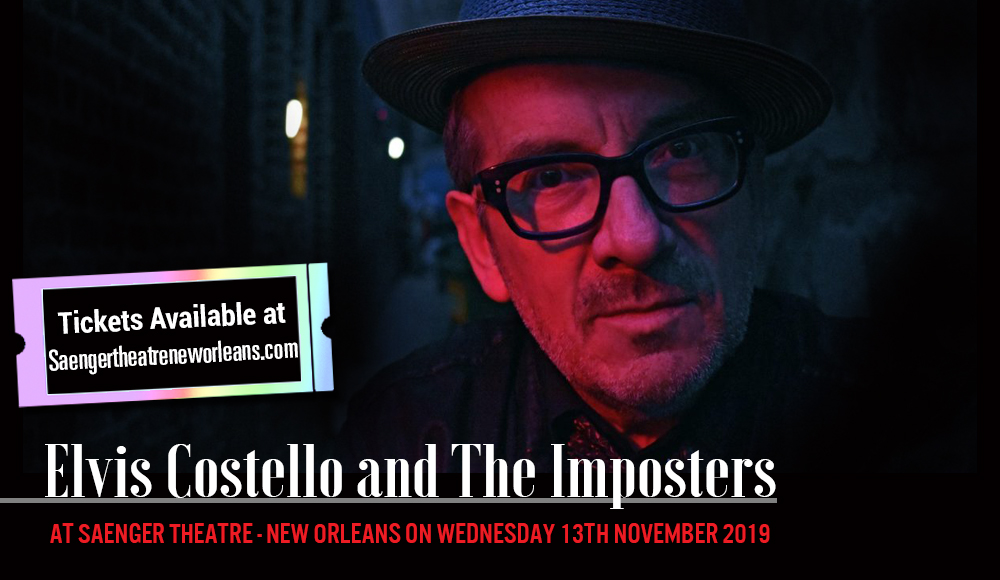 Elvis Costello fans are now giddy with the fact that their punk-new wave music hero, Elvis Costello has just dropped the announcement of his brand new tour entitled "Just Trust". This wave of excitement are causing ardent fans to anxiously blabber away with question like…
'Will they play my favourite song?' or, 'Are they going to frighten the horses with a lot of excellent songs that are rarely performed?' not to mention, 'Can I expect the hits of yesteryear and those of tomorrow?' …
Now heed these words of wisdom: "Just Trust Elvis Costello and The Imposters." It's really impossible not to trust an icon who has been repeatedly cited by Rolling Stones magazine in their "greatest lists". For one, his second album, "This Year's Model", was released in 1978, and was ranked number 11 by Rolling Stone on its list of the best albums from 1967–1987. Then again, his first three albums all appeared on Rolling Stone's list of the 500 Greatest Albums of All Time. And as if these were not enough, he has scooped up multiple awards and prestigious citations, including a Grammy Award, and has twice been nominated for the Brit Award for Best British Male Artist. In 2003, Costello and his former band The Attractions were inducted into the Rock and Roll Hall of Fame. The following year, Rolling Stone (again!) ranked Costello number 80 on their list of the 100 Greatest Artists of All Time.
Are you still having trust issues given all those phenomenal credentials? Best advise you'll get in this lifetime is waste no time and score those tickets now! Just trust….