Saenger Theatre | New Orleans, Louisiana
Get ready for a night that'll take you back on a timeless journey of hit after hit songs live on stage by the one and only Patti LaBelle! The 'Godmother of Soul' is heading to New Orleans for a special performance driven by the powerful vocals that transcend through time with her global hit songs "The Right Kinda Lover", "On My Own" and many more. Catch her special performance live on stage at Saenger Theatre – New Orleans on Friday, 17th of March 2023. Don't miss out on the award-winning legendary singer's return for a special show by booking your tickets now!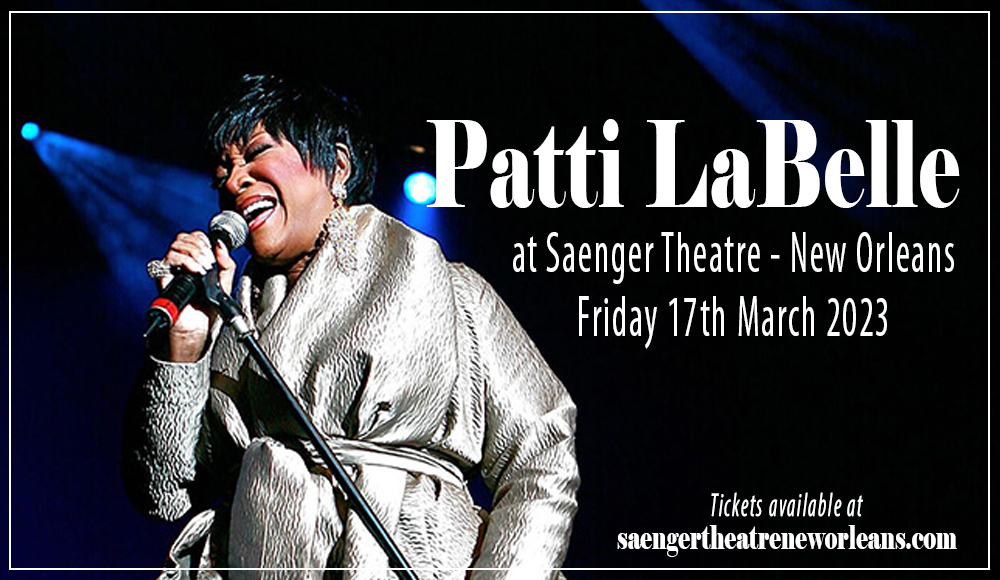 Having sold over 50 million records worldwide, Patti LaBelle is a singer whose music and soaring vocals transcend through time. With her work "Lady Marmalade" with her former female group, Labelle, and her solo global hit "On My Own", hailed as industry-defining records, Patti LaBelle is hailed as the 'Godmother of Soul'. She's been inducted into the Grammy Hall of Fame, Black Music & Entertainment Walk of Fame, the Hollywood Walk of Fame, and the Apollo Theater Hall of Fame. With her distinct vocal character, immense power, range, and emotional delivery, LaBelle takes a spot in Rolling Stone's list of 100 Greatest Singers.
Celebrating decades of industry-defining hits, LaBelle's career spanned across her passions as a singer and an actress. Selling over 50 million records across the globe, the acclaimed singer has also written six books, and featured in various popular films and TV shows such as "A Different World", "A Soldier's Story", and "American Horror Story". She's amazed audiences for her iconic performances in various TV programs including Dancing with the Stars and The Masked Singer. Moreover, she also starred in Broadway productions.
With an immense passion for entertainment, arts, cooking, and lifestyle, Patti LaBelle is a woman who definitely exudes soul. Having great influence over the last seven decades, fans all around the world continue to follow LaBelle's journey and endeavors, racing to get their hands on tickets when she announces intimate shows and performances.
As an award-winning entertainer, singer, author, and businesswoman, LaBelle also engages in various humanitarian causes and advocacies. She is well-known as an advocate for HIV/AIDS, diabetes, cancer, and other non-profit activities. She's often called "the greatest gay icon of all time and a prime example of the intersection of the LGBT community and black female artists". In an interview with Georgia Voice in 2017, she shared ""when I think about it, the gay fans are some of the reason – one big reason – I'm still standing,"
"'cause they loved me when other people tried not to. Everybody always says, "What makes gay men like you?" "I have no clue," I say. I still don't. But I know that love has lifted me up for many, many years."
As one of the world's most legendary female artists to exist, you can't miss out on this chance to catch Patti LaBelle live on stage at Saenger Theatre – New Orleans on March 17th. Book your tickets now!