Saenger Theatre - New Orleans
They brand themselves as "Internetainers", a play of words combining "internet" and "entertainers", due to the fact that they're YouTube superstars — the goofy duo behind the viral show "Good Morning Mythical". But this time, Rhett and Link are back on the road and on the flesh, they will hit the live stage with their antics, music, and offbeat live advice. Catch Rhett and Link at Saenger Theatre – New Orleans on Thursday 5th September 2019. If you loved them on YouTube, the live stage is truly an amplification of their amazing comedic talent. Hurry, book your tickets now!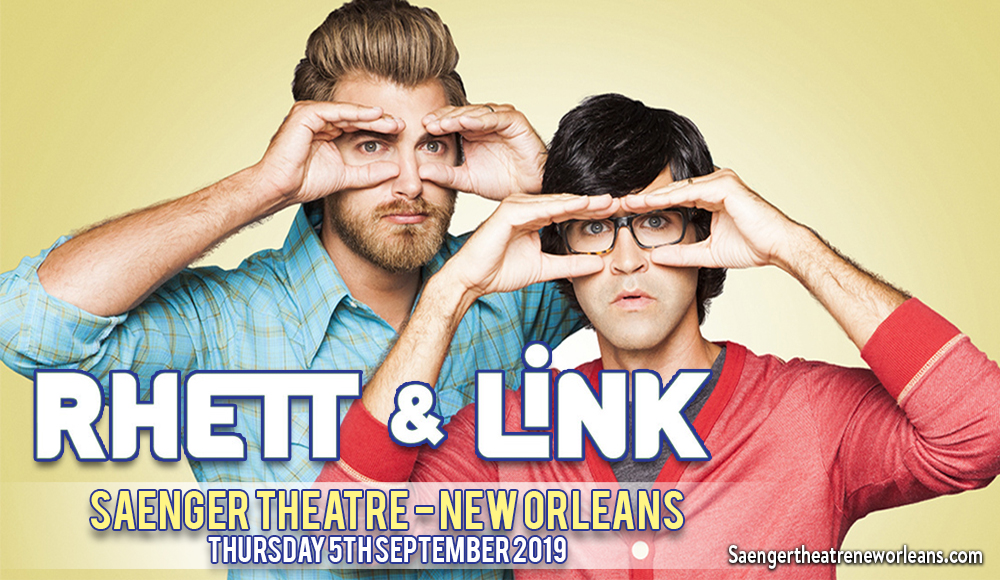 Rhett and Link have written a song and made a documentary: "Looking For Ms. Locklear", which is about their search for their first-grade teacher. Both of them were in her class and that's where their partnership in comedic crime all began. From that time, comedy sketches have always been part of their lives and friendship — writing scripts, filming parodies, and even being part of a punk rock band who called themselves "The Wax Paper Dogz" and have played at an Independence Day festival. Both of them pursued engineering degrees and worked on their respective careers for a time being. Up until YouTube came along and became their platform for pursuing their passions — comedy and music.
Good Morning Mythical broke new grounds that unleashed their uncontainable creativity and humor. Their combined subsriber base are 20 million and counting, garnering more than 4 billion views. They've gotten high-profile media attention, which included appearances at the Tonight Show with Jimmy Fallon, Conan and LIVE with Kelly and Ryan. They have also been featured in USA Today, NPR, Adweek, Forbes, Variety, Mashable, and many more. Along the way, they also picked-up a Webby Award, a Streamy and Shorty Awards.
Now you know. Rhett and Link are hot tickets. Grab one now before you blow this chance of seeing them live.