Saenger Theatre - New Orleans
It's time to warm up those chuckle muscles as Super Saturday Comedy Explosion comes to Saenger Theatre – New Orleans on Saturday 11th January 2020! A night of music and laughter from local and national talents, the Super Saturday Comedy Explosion is laid-back entertainment at its finest! Featuring comedians Mal Malucci, Paco (aka Trinese Duplessis) and Dana, music acts Gina Brown and DJ Jubilee, and comedy headliner Ms Shirleen (aka Christianee Porter) from The Christi Show!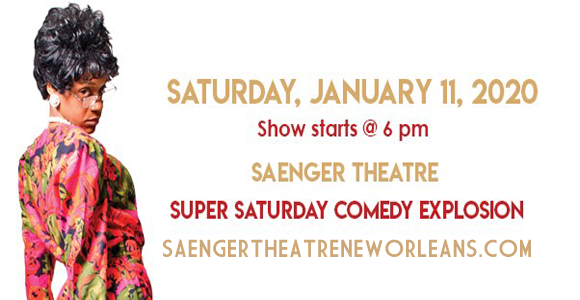 Ms Shirleen is the church momma alter-ego and clean comedy character of Atlanta-based actress, writer, singer, and comedian Christianee Porter. Porter relocated from Little Rock, Arkansas to Atlanta, Georgia in 2005 to pursue a career in music. After becoming disillusioned with the industry, she worked various 9-to-5 jobs before deciding to return to the stage in 2014, this time to stand-up comedy. After a couple of years of working the comedy circuit, in January 2016, Porter began uploading comedy videos to YouTube under the name The Christi Show, debuting with a video of Ms Shirleen. Since then, she has toured comedy clubs around the country, performing stand-up as Ms Shirleen.