Saenger Theatre | New Orleans, Louisiana
As Folk-rock favorites, The Avett Brothers, continue a year of non-stop shows that take fans by surprise, the American folk-rock act is hitting the stage at Saenger Theatre – New Orleans on Friday, 5th of May 2023. Celebrating over twenty years of folk-rock masterpieces, and the release of their latest record, The Third Gleam, The Avett Brothers are set to perform their biggest hits, crowd favorites, and big surprises live on stage as the brothers headline the annual "Second Weekend at the Saenger". Don't miss out by booking your tickets now!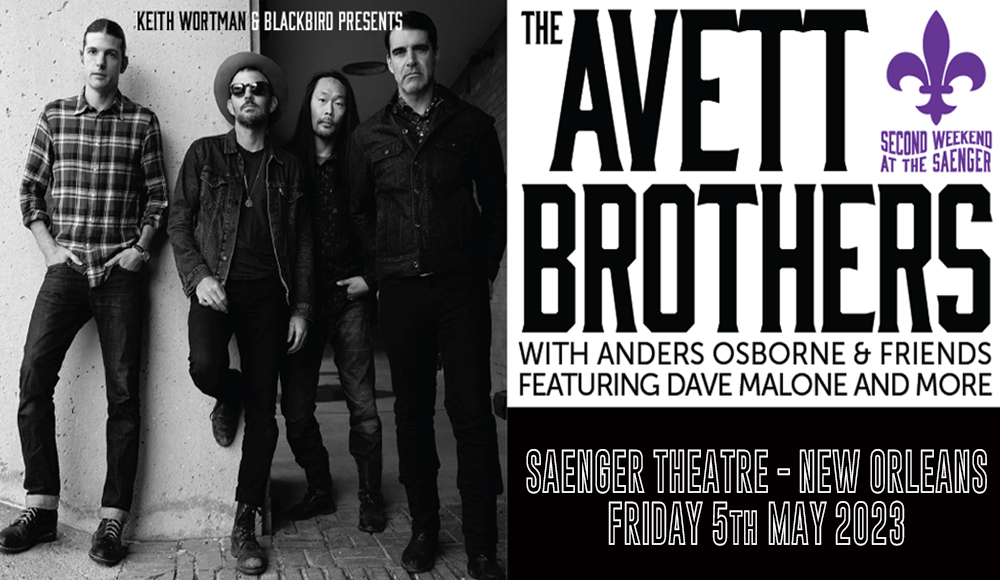 The three-time Grammy-nominated folk-rock act, The Avett Brothers, continue to challenge the industry for their unique and honest masterpieces. Led by brothers Seth and Scott Avett, joined by Bob Crawford and Joe Kwon, The Avett Brothers are celebrating over twenty years of folk-rock anthems. In August 2020, the band released the third installment to their Gleam EP series, "The Third Gleam".
The Third Gleam includes stripped-down tracks that take the band back to its roots. NPR notes that the record is "a series of songs that remind you why people fell in love with this band in the first place."
"The lyrics, the honesty, the feeling you could be in the room, right there, up close with them as they sing their heart out."
Asked about what set the record apart from their previous work, in an interview with The Blue Grass Station, "If there was a heart or soul or spirit to everything we do, [The Gleams] orbit a bit closer to that. If there's layers to an entity or a life, this is kind of at the pure center of it." Scott Avett shared.
The Avett Brothers became amasses its dedicated following upon the release of its breakout sixth studio album and major label debut, "I and Love and You". The album featured their singles "Head Full of Doubt/Road Full of Promise", its title track, "Slight Figure of Speech", and "Kick Drum Heart". The album went on to sell over 500,00 copies.
Having spent a lifetime playing music, The Avett Brothers are celebrating 20 years in the project – a project that became a purpose. With a new record that takes listeners back to the band's core, every Avett Brothers show is a special time to sit back, vibe, and sing-along to their honest and raw masterpieces.
Book your tickets now!