Saenger Theatre | New Orleans, Louisiana
It's the event you've all been waiting for! That's right, the legendary Talking Heads frontman, David Byrne, is back with his latest album and an extended North American tour. With a show that'll engage your body and mind alike, David Byrne will be heading to Saenger Theatre – New Orleans on Monday 8th October 2018 for a truly unique show that only the Talking Heads mastermind could create. Tickets on sale now. Don't miss out – you won't regret it!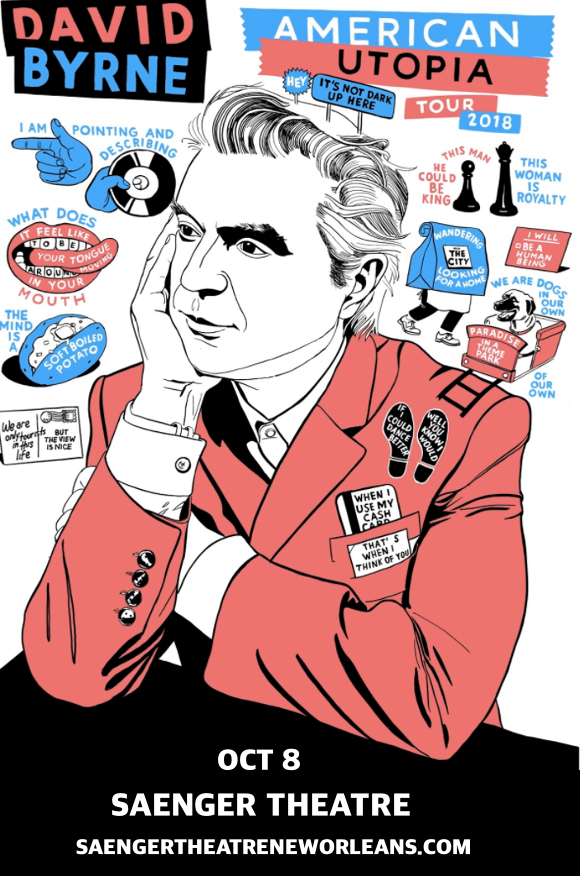 The founding member and primary genius behind the British new wave band Talking Heads, David Byrne saw a long and successful career with the band, who helped to pioneer the new wave genre by blending elements of art rock, punk, funk, and world music with a quirky avant-garde aesthetic and outlook. With the Talking Heads, David Byrne established a band that would influence hundreds of bands yet to come, before departing to pursue an equally impressive solo career. Now, he's bringing his latest work, "American Utopia," to New Orleans. Described as an "unprecedented, exquisite live show" by The Guardian, David Byrne's American Utopia show is one that stretches the boundaries of what any regular band is expected to do on stage. Thanks to brilliant choreography by Annie-B Parson, the band themselves are constantly in motion – the show is in some ways as much a dance performance as a musical one.
Get ready for a show that will stretch your brain as well as have you dancing – David Byrne's brilliance lives on! Grab tickets NOW before they disappear!