Saenger Theatre | New Orleans, Louisiana
For long-time, loyal fans it's really so hard to say goodbye to a band who has rocked everyone to the core all these years…The feeling is mutual. Deep Purple has not yet come to terms with ending their 50-year old ultra-successful career, hence they deemed to keep it going with their "Long Goodbye Tour". Now on its eighth leg, the tour is bound to take them to these shores as they stage this highly-anticipated show at the Saenger Theatre – New Orleans on Tuesday 24th September 2019. Well, this is not yet their swan song, but make sure you don't kiss the opportunity to watch this show goodbye… book your tickets now!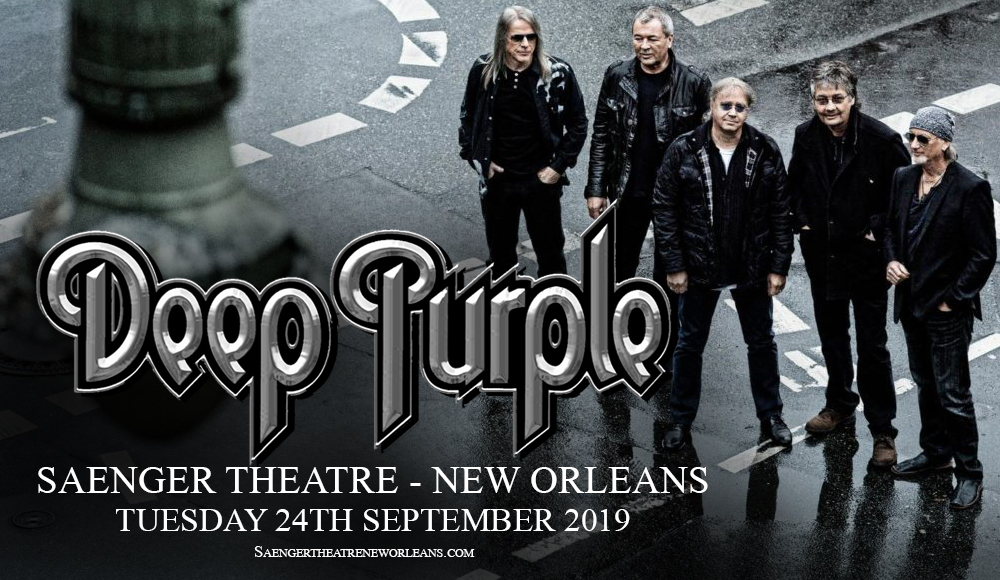 Deep Purple's "Long Goodbye Tour" is truly living up to its name. Now on its eighth leg, they are set to kick-off another set of 33-dates in the U.S. alone. This doesn't come as a surprise, actually. It's really hard to say goodbye to a bonafide rock legend who has blazed unprecedented trails in the rock and heavy metal movement. They were listed as part of the so-called "unholy trinity" of British hard rock and heavy metal along with their contemporaries Led Zepellin and Black Sabbath. Deep Purple has been listed in the 1975 Guinness Book of World Records as "the globe's loudest band". Indeed, their credentials and awards rocked as loud as their music. VHI ranked them at number 22 on its Greatest Artists of Hard Rock programme. Listenrs of British radio station Planet Rock voted them 5th among the "most influential bands ever". The band received much coveted awards such as the Legend Award at the 2008 World Music Awards; then finally were inducted into the Rock and Roll Hall of Fame in 2016.
Billboard threw in a relevant question whether"The Long Goodbye" tour title was intentional in demonstrating the length of time they intend to stay on the road, bassist Roger Glover had this to say: "Well, we're letting you make your own minds up. No one wants to stop. But we're all about late 60s, early 70s, and bodies have a way of not keeping up with your brain or your career. We're all sort of approaching that point where I can't imagine another eight years to do an album….The time is approaching when it will end, but we don't want to face that. We don't actually want to make a date or a final tour or anything. We just want to carry on as long as nature allows or is kind of dignified. If we can't do what we do anymore, then yes, it's time to stop. But we're still doing it, and we're still enjoying it very much. So all we're saying is the door is closing, but it's not closed yet."
As for fans like you, don't wait 'til this door gets shut on your face. The time to get those tickets is right here, right now!