Saenger Theatre | New Orleans, Louisiana
Man, it's a hot one! That's how music fans reacted the moment Rob Thomas dropped the news about his upcoming tour. This smooth rocker will do the rounds of various concert venues to prep-up and drum-up his latest album release 'Chip Tooth Smile'. Rob Thomas' ever loyal fans who stuck with him through and through back in the days of Matchbox 20 and on to his solo career, are grinning from ear to ear as they have started booking their tickets. Demand for tickets are piling up, so better start getting yourself one before it's too late. Book your tickets now!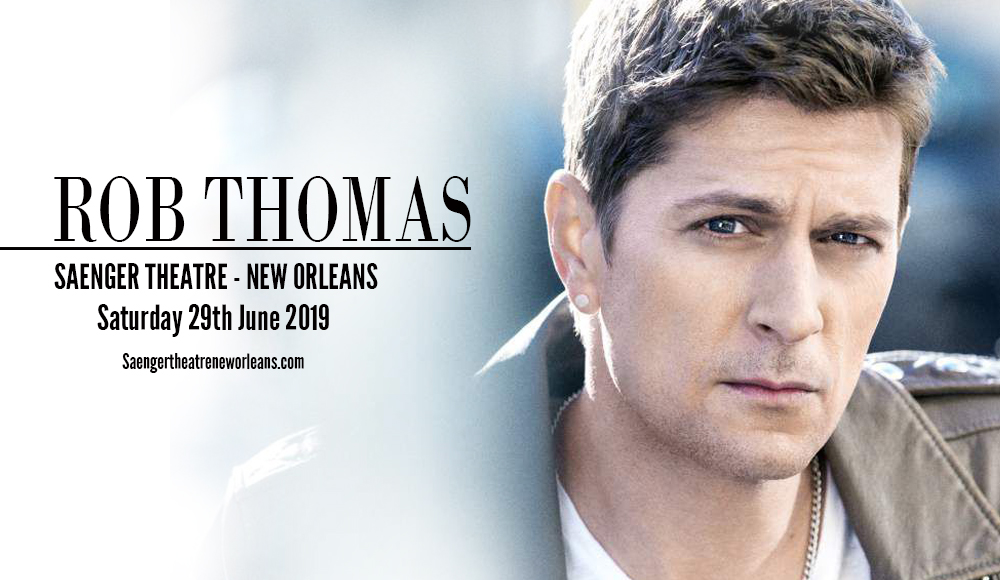 A countdown, list, or polls about the hottest male lead vocalists or solo singers would always include Rob Thomas. Apart from his oozing sex appeal, and his smooth yet gritty voice, Rob Thomas has killer songwriting skill to boot, — a hitmaker, a superstar in every sense of the word.
With his stint as lead singer of luminary alt-rock band Matchbox 20, they have delivered an amazing collection of timeless hits which include "Unwell", "Push", "Bent", "3AM", "If You're Gone", "Disease", "Mad Season", and many more.
After spending a decade with Matchbox 20, Rob Thomas decided it was time to make it on his own. His solo debut album"…Something to Be" shot up to the number 1 spot on the Billboard 200 chart, propelled by the debut single from the album entitled "Lonely No More", which took on the number 6 spot on the US Billboard Hot 100 chart. During this time, Rob Thomas also provided vocals for one of Santana's biggest hit – "Smooth", which is a certified triple platinum single.
A listing of Rob Thomas' hit songs is more than enough reason to compel you to book your ticket at once. Certified must-see, must-watch concert!