Saenger Theatre | New Orleans, Louisiana
Simple Minds are back with their first top five album in twenty years, and they're bringing it on the road with an exciting new show! The Scottish band, best known for their 80s hit on The Breakfast Club soundtrack "Don't You (Forget About Me)", are coming to Saenger Theatre – New Orleans on Tuesday 6th November 2018 to promote their new release – Walk Beyond Worlds! According to guitarist, keyboard player and founding member Charlie Burchill, fans can expect an exciting new live set-up from the band:
'The whole stage set-up is now more fluid,' says Charlie. 'We're working on fresh arrangements of some old songs, and there is going to be more movement between the musicians onstage. There will be time for people to digest the songs and more space for Jim to talk to the audience.'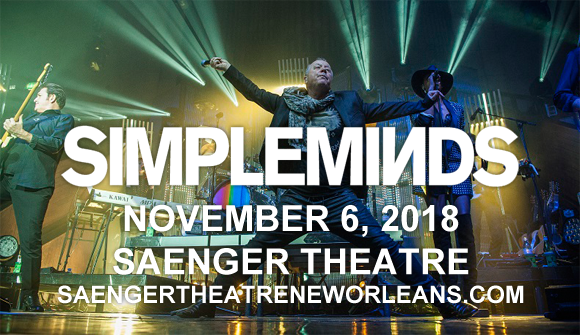 Scottish rock band Simple Minds formed in Glasgow in 1977. With five UK Albums chart number one albums during their career and sales of an estimated 70 million albums, the group was the most commercially successful Scottish band of the 1980s. The band's debut studio album, Life in a Day, was released in 1979, but it was their 1985 hit "Don't You (Forget About Me)", from the soundtrack of the film The Breakfast Club, that brought them to an international audience. They were also known for the UK number one hits "Alive and Kicking" and "Belfast Child". The group was awarded with the Ivor Novello Award for Outstanding Song Collection from the British Academy of Songwriters, Composers, and Authors in 2016. Currently, Jim Kerr (lead vocals) and Charlie Burchill (guitar, keyboards), the group's founding members, are the only original band members in the Simple Minds line-up. To date, the band has released nineteen studio albums, and their most recent release was 2018's Walk Between Worlds.