Saenger Theatre | New Orleans, Louisiana
It's time to get grooving as the incredible B-52s swing by Saenger Theatre – New Orleans on Sunday 25th August 2019 as part of their 40th anniversary tour! In support will be two fellow new wave pioneers Orchestral Maneuvers in the Dark and Berlin!
"Who knew that when we played our first house dance party in Athens, Georgia in 1976 that we would be still be rocking the house in 2019," singer Kate Pierson said in a statement. Frontman Fred Schneider added: "Woo-hoo! Europe and then all over North America! Dust off those go-go boots and shine your dancing shoes because the B-52s are coming."
"Visiting over 10 countries to perform for our fans around the globe makes us so incredibly happy," singer Cindy Wilson said in a statement. "Let's rock!"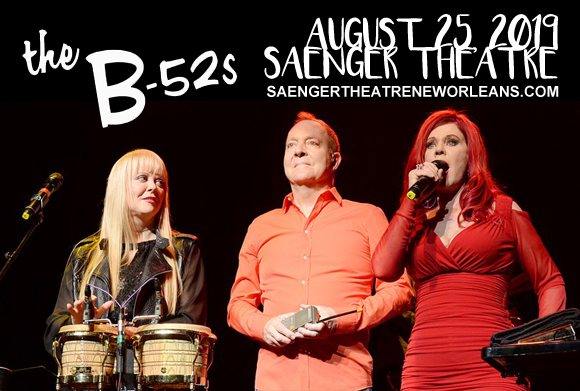 Known for their distinctive retro-inspired look and massive hits, including "Rock Lobster", "Planet Claire", "Private Idaho", "Legal Tender", "Love Shack" and "Roam", The B-52s are an American new wave band that formed in Athens, Georgia, in 1976. The band still performs in their original line-up of original line-up of Fred Schneider (vocals), Kate Pierson (vocals, keyboards), Cindy Wilson (vocals, percussion), Ricky Wilson (guitar), and Keith Strickland (drums, guitar, keyboards), minus Wilson, who passed away in 1985. After a sixteen year hiatus from recording, the band released their most recent album, Funplex, in 2008.