Saenger Theatre | New Orleans, Louisiana
One of the biggest names in Jazz, Trombone Shorty, joined by his band, Orleans Avenue, is heading over to Saenger Theatre on Saturday, 29th of April 2023 for Treme Thereauxdown 7, a post-Jazz Fest session. The show will bring a special guest, Dumpstaphunk to open the show. As the Grammy-nominated artist hits the live stage with his acclaimed trombone and trumpet skills, get ready to be amazed at his talent and charm as he plays crowd-favorite Jazz tunes. Don't miss out by booking your tickets now!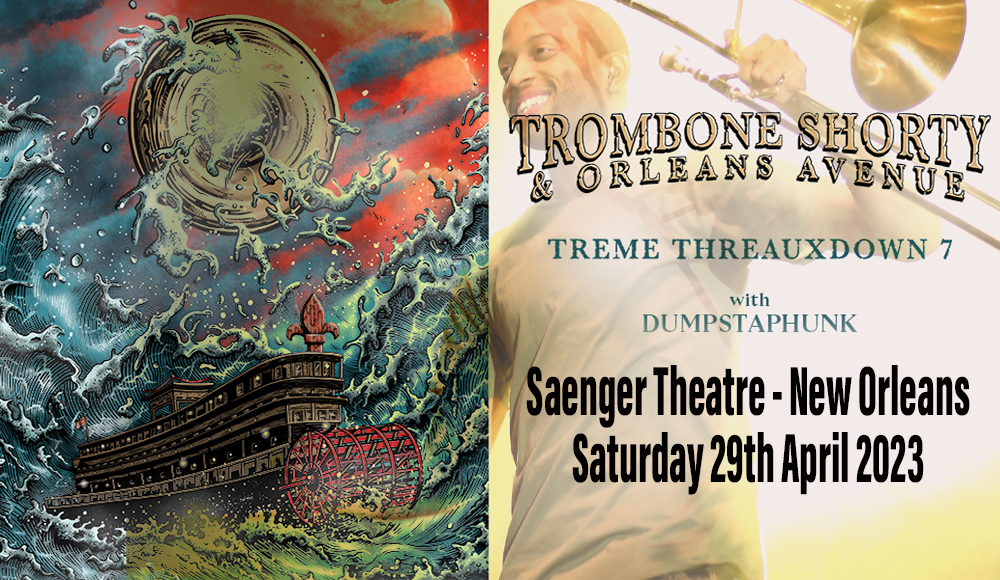 Blending jazz, funk, rock, and hip-hop influences into infectious masterpieces, Trombone Shorty paved the way to integrate classical instruments into modern-age instrumental spectacles. The talented trombone and trumpet player rose to critical claim for his unique style and innovative performances – together with his band, Orleans Avenue.
Troy Andrews, better known as Trombone Shorty, picked up the instrument when he was a toddler. Making history at four years old as the little kid performed at Jazz Fest, he took charge of his own brass band by the age of six. Featuring as a member of Lenny Kravitz's horn section that shared big-time acts including that of Aerosmith, Trombone Shorty's career continued to soar to big heights.
Though what seemed like a story of glitter and gold as a child prodigy, his career didn't start off all smooth sailing. Despite threats during his early days, he went on and participated in protests, "Because of that moment, the kids and people who want to play on the street are still able to do that because of what we did." he shared with CBS News, recalling a time when they were stopped by police as they played in Jackson Square.
Rooted in New Orleans, Trombone Shorty credits his hometown for all of his achievements. The man has worked with some of the industry's biggest names including Kermit Ruffins, Lenny Kravitz, Jeff Beck, Kid Rock, and so much more. He's also received several accolades including a Grammy Award, a Heinz Award, and other various honors as a Jazz performer.
"Without New Orleans I wouldn't be here," he shared. "And I really mean that with my whole heart."
In early 2022, the artist released his new album "Lifted" with its lead single "Everybody in the World". Sharing a universal message of love and acceptance, the album features collaborations with Gary Clark Jr. Lauren Daigle, and the New Breed Brass Band.
Being an active advocate for his purpose and advocacies, Trombone Shorty recently led an exchange trip with kids form New Orleans to Cuba, emphasizing cultural exchange and the power of music between young musicians.
"The foundation is just about inspiring the next generation and letting them know that … through music, it could be your passport to do whatever you want to do," he shared, as cited from CBS News.
As Trombone Shorty hits the big stage for Treme Thereauxdown 7, make sure to save your spots at the show by booking those tickets now!