Saenger Theatre | New Orleans, Louisiana
If you love Bruno Mars, check out the artist who's got their crew of hooligans since 1977! Maze And Frankie Beverly are chugging along on their funky soul train, headed on to the Saenger Theatre – New Orleans on Friday, 28th December 2018. Maze And Frankie Beverly are still at the top of their game with their signature style of infusing vibrant funk with slow jams, and everything soulful in between. Maze And Frankie Beverly has got a devoted following that will have no qualms about buying tickets the moment ticket selling opens. Don't take any chances of letting this moment pass you by. Get your nimble fingers moving and click that 'buy ticket' button before tickets to this show sell out.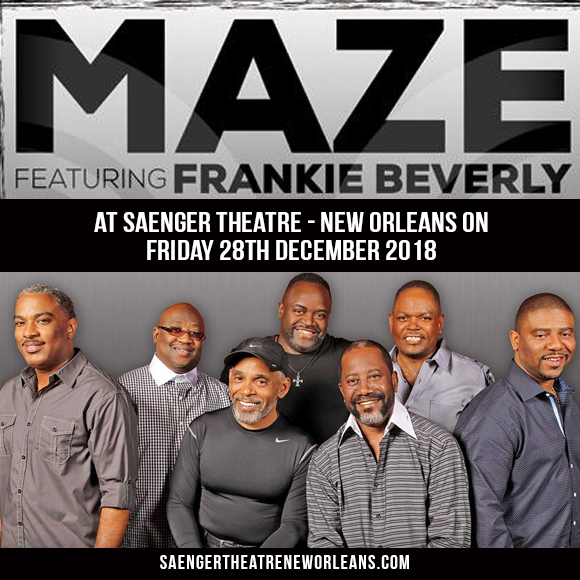 Donned in signature all-white attire, Maze And Frankie Beverly light up the stage and give audiences jolts of energy from start to finish. Think Bruno Mars meets Marvin Gaye. Maze And Frankie Beverly are a soulful bunch who crazy good at dishing out ditties that fuse smooth mellow, slow jams with silky jazz and pulsating funk.
Founder, songwriter, record producer, singer, keyboardist, and guitarist Frankie Beverly was then struggling with his band Raw Soul, with singles that hardly took off on the charts. In 1976, their relocation to San Franciso and a chance encounter with superstar Marvin Gaye, were pivotal to bringing winds of change to their fledgling career. Gaye took them under his wings by inviting the band to join his tour as an opening act and suggested to change the name Raw Soul. Maze and Frankie Beverly debuted strong in 1977 with their release of the album ""Maze Featuring Frankie Beverly." The album spawned the hit singles "Happy Feelin's," "While I'm Alone" and "Lady of Magic." They've had a continuous streak of hits, with all eight of Maze's studio albums burning the charts and selling gold. They were unstoppable on the live stage, and still, carry that incessant performance energy to this day.
Maze And Frankie Beverly possess that timeless appeal, hence, fans of all ages will be delighted to catch this show. Don't be left behind! Get your tickets now, all aboard the Maze And Frankie Beverly soul train!