Saenger Theatre | New Orleans, Louisiana
It's time to call the little ones as the fun-filled theatrical adaptation of the award-winning children's TV show, Bluey, is coming over to the United States! Entitled "Bluey's Big Play", the show promises family-friendly fun for all ages. Featuring the cheeky little dog and her amazing family, the Heelers are set to throw an adventure live on stage at Bluey's Big Play at Saenger Theatre – New Orleans on Saturday, 26th of August 2023. Don't miss out on this chance to sing, dance, laugh, and jump with the Heelers themselves at Bluey's Big Play by booking your tickets now!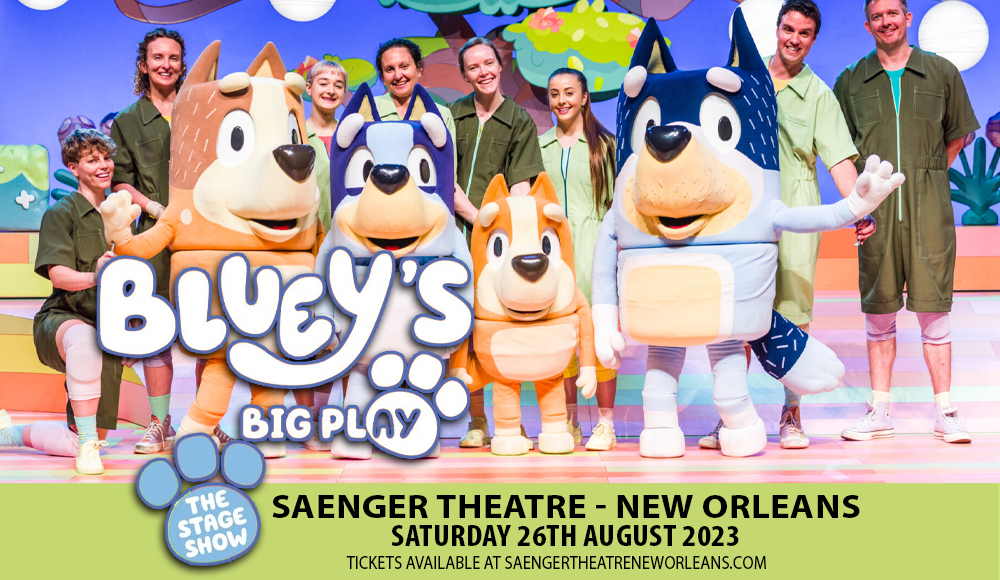 Having performed over four hundred shows across 65 filled venues in its home in Australia, the cheeky little dog, and her family – the Heelers, are flying over to the United States, bringing Bluey's Big Play to its US fans. After a massively successful national tour in its home base, Bluey's Big Play is set to dominate the international market, looking forward to visiting its little fans around the globe.
"We continue to be amazed by the reaction this first national tour of 'Bluey's Big Play' is getting from markets across the country," shared representative Craig Boleman. "Family audiences from coast-to-coast, and all points in between, can't wait for this show."
The show promises an original story by Bluey creator Joe Brumm, and new music to sing along to, composed by Bluey's very own composer Joff Bush. As the Heeler's first live theatre show made for the kiddos goes global, Bluey's excited to sing, dance, jump, and play with all of her friends in the US.
"When Dad feels like a little bit of Sunday afternoon time out, Bluey and Bingo have other plans," Bluey's website says. "Join them as they pull out all of the games and cleverness at their disposal to get Dad off that bean bag."
As the kids' favorite cartoon animal comes to life on stage, it's time to call dad and definitely get him off that sofa, getting him to sing, dance, and spend time with the family on a show crafted for fun for all ages.
Bluey's Big Play is the ultimate family boding experience as they take mom, dad, brother, and sister on a fun-filled theatrical adventure.
Rosemary Myers from Windmill Theatre Co. shares that they're "delighted to bring this standout live theater show to U.S. audiences… We know how much love there is out there for Bluey and are thrilled and honored to translate these brilliant characters into the three-dimensional world and to share this special experience with fans throughout America."
Presented by BBC Studios and Andrew Kay with Windmill Theatre Co., Bluey's Big Play promises fun and games for the whole family to enjoy. Book your tickets now!