Saenger Theatre - New Orleans

Take a trip to the wonderful world of Bluey this summer! The sensational children's series Bluey's Big Play is going live and touring North America! On Sunday, 27th August 2023, Blue's Big Play will light up the Saenger Theatre – New Orleans! Join Bluey as he goes on an exciting adventure with his family and meets whimsical characters in this much-awaited musical performance! The show will also feature several of the show's beloved songs! If you want to create incredible memories with your family, hurry and grab your tickets to see Bluey, Bingo, Bandit, and Chilli at the Saenger Theatre – in New Orleans!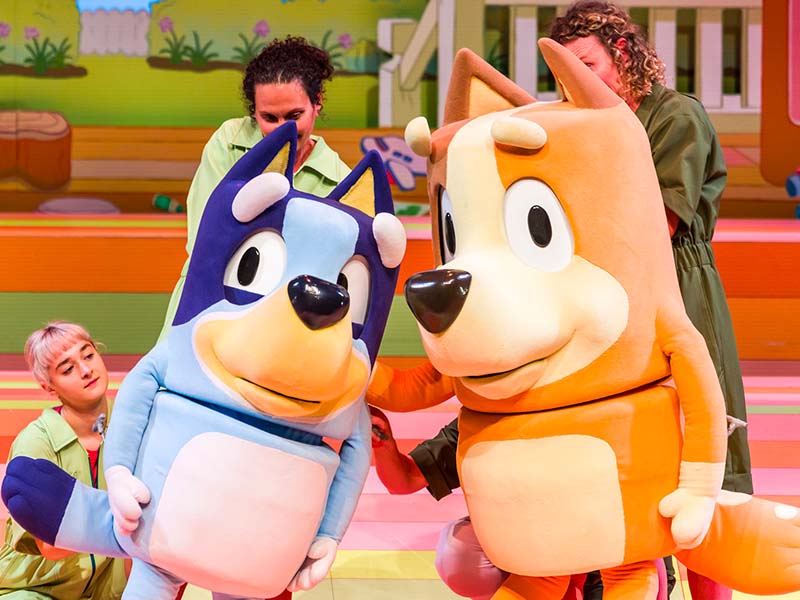 Bluey's Dad, Bandit, is feeling a little tired on a lazy Sunday afternoon. However, Bluey and Bingo are feeling adventurous and want to play with their dad! So our two favorite canine characters find a way to bring give Bandit some energy so he can play with them. Some clever tricks and pranks may be in store for the snoozy dad, and they're bound to elicit some laughs and giggles! Bluey's Big Play live is a new adaptation of the highly-popular TV series. The show will feature an original story written by the creator, Joe Brumm. Bluey's Big Play will also feature a never-seen-before storyline that will surely excite the kids! Delve into a wonderful world full of laughter, fun, and learning while your kids sing and dance along to the new incredible musical score composed by Jeff Bush.
Bluey, which premiered in 2018 on ABC Kids, is an award-winning television series designed to teach and stir young viewers' imaginations. Joe Brumm created and produced the show, and it was later picked up by an Australian company named Ludo Studio. Bluey features the main character, a bright and energetic puppy, along with his family members – his sister Bingo, his dad Bandit, and his mom Chilli. Bluey's Big Play is designed to inspire imaginative play.
Since its premiere, the show has won several awards, including Best Children's Program at the Australian Academy of Cinema and Television. Arts Awards, Best Soundtrack Album at the APRA Screen Music Awards, the International Emmy Kids Awards, and many more! This 2023, Blue's Big Play will go on stage and entertain the kids and their families!
Hurry and grab your tickets now to see Bluey and his family go on a phenomenal adventure!